INIM Previdia – sizing fire alarm systems, a complete flexibility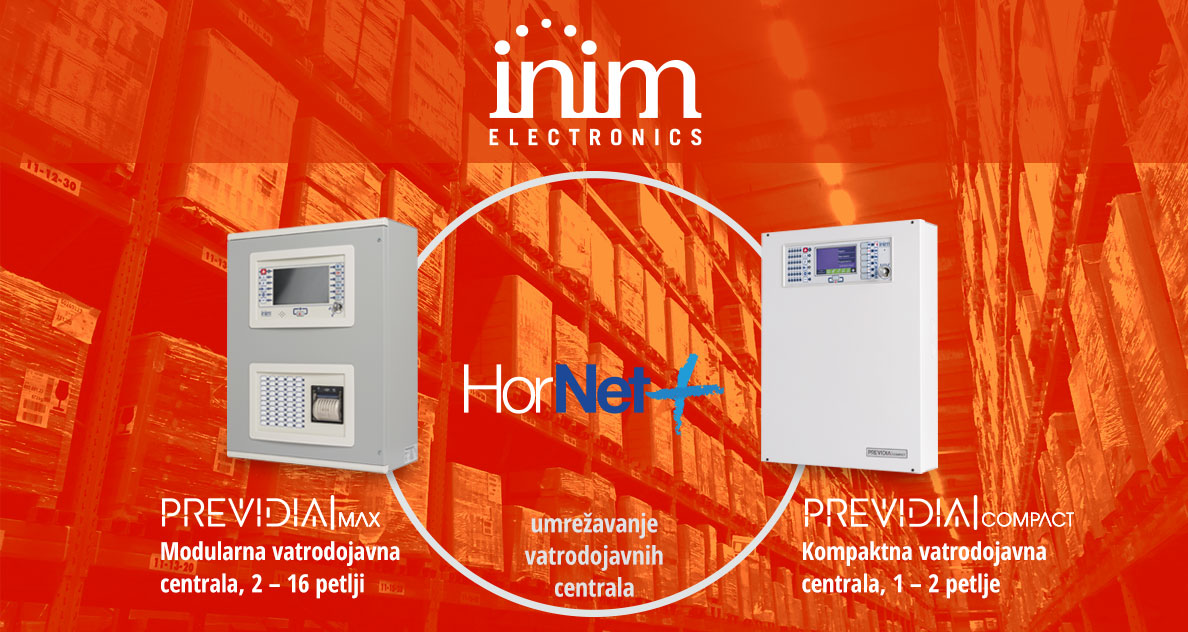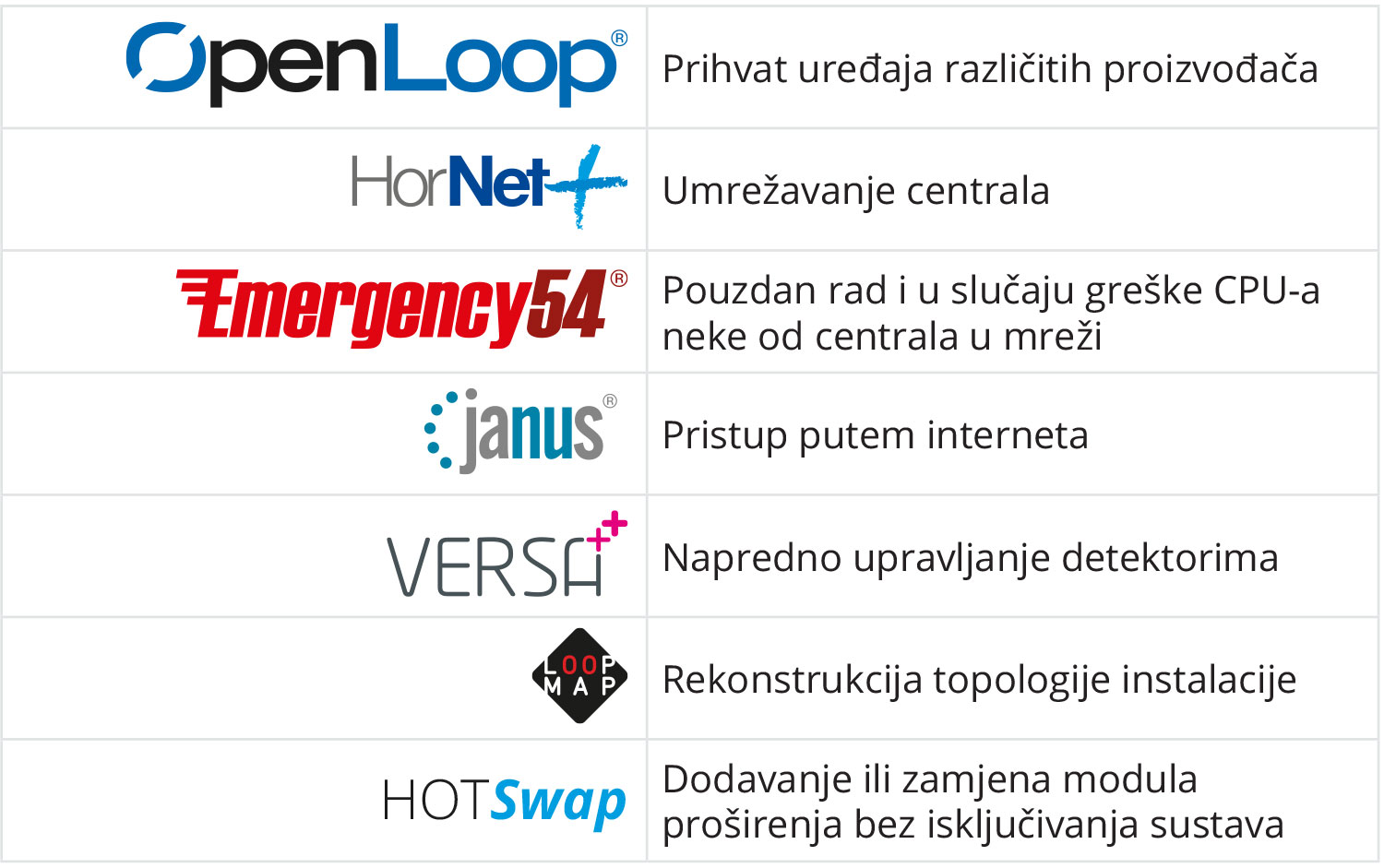 HorNet+ technology has been implemented in Previdia control panels, along to all the advanced technologies previously developed in Inim, which enables the networking of Compact and Max fire alarm control panels.
Hornet+ technology enables the connection of up to 48 control panels or remote keyboards into one integrated set, and it is possible to network via a TCP / IP network up to 20 sets in one system. This allows greater flexibility in sizing the system, according to customers' real needs and circumstances.
Integrations via Previdia fire control panels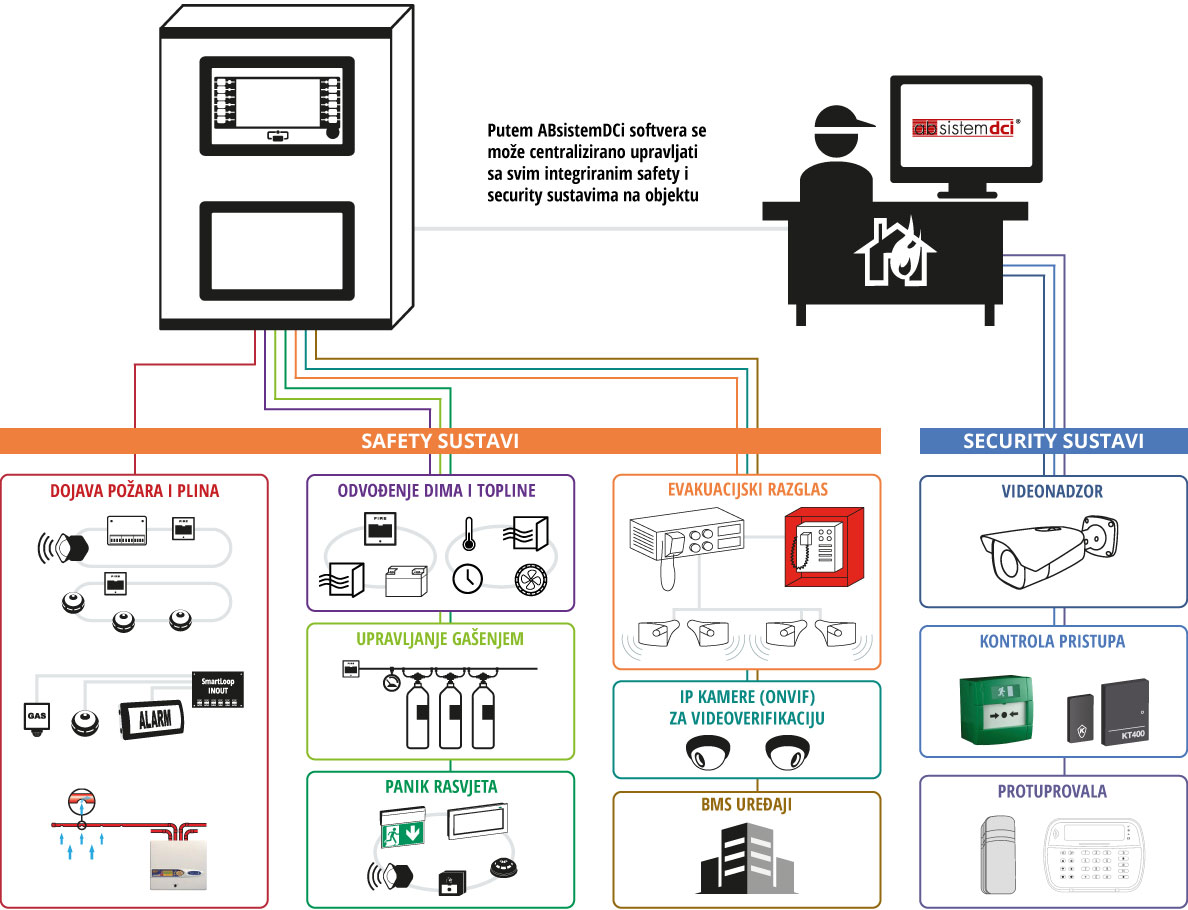 An important feature of Previdia is that various connectivity options (RS485, optical fibres, TCP-IP) have been implemented for connection with the control panels, what enables integration with safety systems on site. As well, the control panel is available in a version with the Extinguishing control function and certified in accordance with the EN12094-1 standard.
BUS controlled emergency lighting Harper is compatible with the fire alarm protocol and all its elements can be connected to Previdia control panels directly on the same loop. BUS communication between the control panel and EVAC equipment allows both systems to function as one, which significantly simplifies wiring, programming and maintenance.
At remote locations systems can be monitored from a single location. Integration with BMS devices from different manufacturers is possible via the IFMLAN module, where the BACNET protocol is implemented.
Video alarm verification through connected IP cameras (ONVIF protocol) is enabled, too. For the implementation of graphic maps, ie floor plans, with an interactive topology of the system, it is necessary to install an additional SD card.
ABsistemDCi integration software enables centralized management of Previdia systems, and all other systems which are integrated on the building, as well.
Previdia fire alarm systems management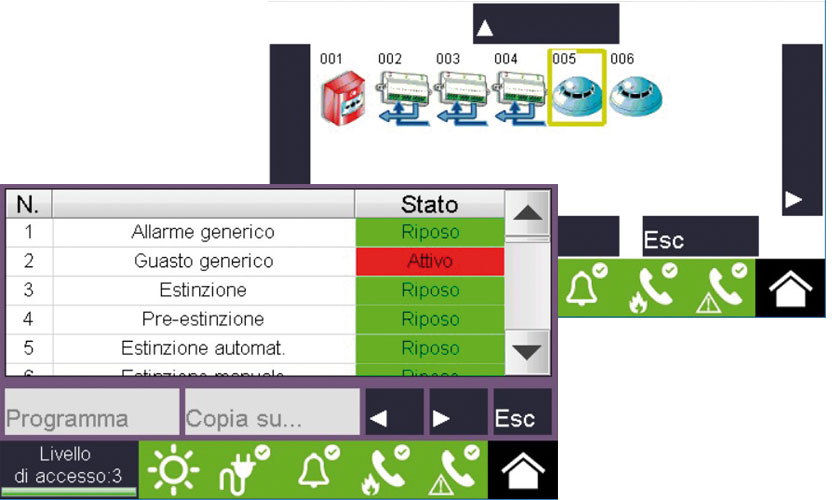 Touch screen keypads
Installation and operation are extremely simple via touch screen keypads, 4.3″ (Compact control panel) or 7″ (Max control panel). User can view a map of the space on the screen, with the elements of the system drawn, and displaying their status. Therefore, each alarm can be located very quickly. The graphical display also enables more intuitive management, programming and event reading.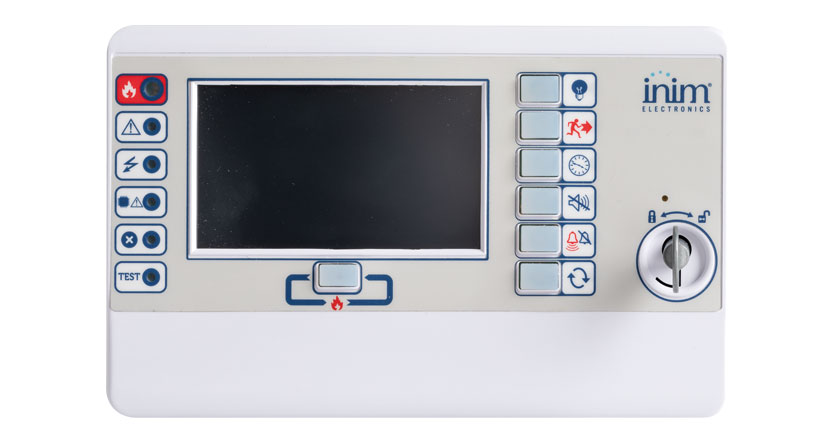 C-Rep remote control keyboard
A remote C-Rep control keyboard is available, too, compatible with both Compact and Max control panels. It connects to the Hornet+ network via RS485 communication interface, providing access to all information about devices connected.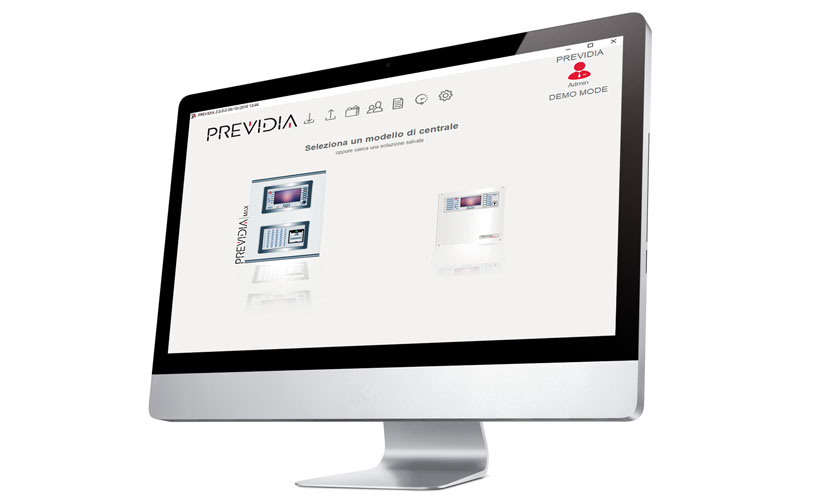 Previda Studio software
Previdia STUDIO configuration software, adapted for touch screen keypads', is used to set up and manage control panels and a networked system. It enables precise diagnostics and adjustment of system's elements, data storage and reports' generation, in accordance with positive regulations.
Inim Cloud Fire & Mobile app
Inim Cloud Fire web for centralized monitoring and remote control provides an additional flexibility and can be accessed via the Inim Fire App mobile application, too (both Android and iOS systems are supported). It provides instant access to control panels and management of the entire system, configuration via Previdia Studio software, online viewing of event logs, maintenance planning, and e-mail and push notifications for user-defined events. Data security is ensured in accordance with the highest standards (redundancy, encryption, storage centre with TIER 3 and TIA-942 warranty). The Inim Cloud Fire service is free, for both installers and users.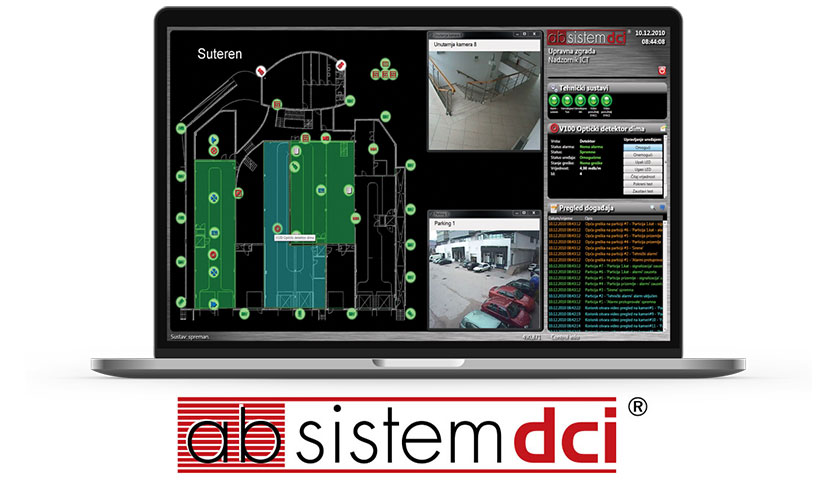 ABsistemDCi integration software
Previdia systems can be managed, as well, via ABsistemDCi integration software, which allows safety, security and BMS systems on site to be managed via a single interface.
Compact solution for small and medium applications
Previdia Compact is a compact control panel, intended for small and medium-sized applications, and available in two versions – with one or two loops. It can be ordered in S or L size housings, depending of the selected power supply and batteries' capacity (7 Ah or 17 Ah).
The control panel has RS485 connectors on-board, which enable Hornet+ networking. It also has an Ethernet port that can be connected to a local or external network, for networking, configuration, management, and MODBUS integration with, for example, ABsistemDCi software.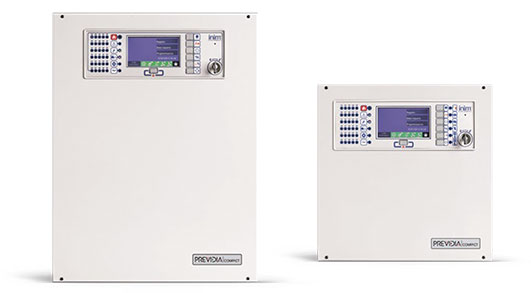 Modular fire alarm solution for large applications
Previdia Max is a modular fire alarm control panel designed for large applications such are airports, hotels and shopping malls.
The modules are installed in a control panel housing that can accommodate up to 8 modules connected by a CAN DRIVE bus, and it is possible to connect up to 4 such housings into one system.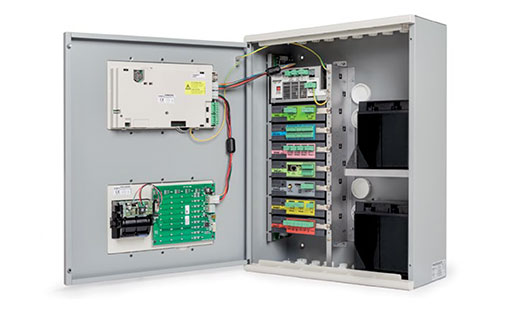 Inim SmartLoop addressable fire control panels
Addressable fire alarm control panels are used in both smaller (1 loop) and large (8 loop) applications. The largest possible configuration is 30 panels, arranged in a token ring.
Inim conventional SmartLine fire alarm
Conventional Inim SmartLine fire alarm control panels are available in three different versions: with 2 zones, with 4 zones expandable to 20 and with 4 zones expandable up to 36. They are a reliable solution for conventional fire alarms.
Inim wireless fire alarm Libra
Libra wireless fire alarm is a great solution for already furnished facilities, where a new installation is not desirable or possible. A wide range of wireless detectors and additional devices, compliant with European standards, is available.
Inim special detection methods
For non-specific applications, special detection solutions are used – Stratos aspiration systems, flame detectors, thermosensitive cables, fire alarm barriers or adapters for air ducts.
Xtralis OSID fire alarm
Large open spaces (warehouses, airports, shopping malls, stadiums) are difficult to cover with conventional fire detectors, therefore OSID (Open-area Smoke Imaging Detection) barriers are used.